Twin day at school. Nailed it. Might be the only time so I had to share.. … [Continue reading...]
Chris and I have been married 7 years this March. We've been together the better part of 12 years. There have been so many changes in our lives with very few constants. One constant has been our family, not only our immediate family, but our extended work family (although, some of those people ARE actually immediate family). Chris has been with Audigy Group for 9 years. We, along with many others, have grown from dating to married with multiple kids. I still remember when they moved to their … [Continue reading...]
If you're new here, you may want to subscribe to our email. You'll receive an email only when we publish something new to check out! Enter your email address: .
[Continue reading...]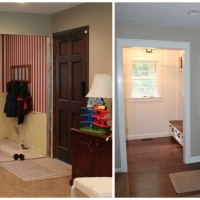 I give up (for now) on giving you the step-by-step. I'm dying to show you my mudroom reveal. I'll follow up later with the other details, but c'mon.. don't you just want to see it?! This is my new mudroom that I did by myself thank-you-very-much with help from my awesome husband when I needed […]
[Continue reading...]
Yes, you can fit all 4 in one tub. For now…
[Continue reading...]
And now we continue with week 3 of my mudroom build! Check out weeks 1 & 2 if you haven't already. So, with all the prep worked done for the floors, I realized that I couldn't tackle the floor yet. Yep. You see, we needed a new door to the breeze way. The one that […]
[Continue reading...]
Some of you know about my "little" project. My mudroom. I've been working on it for months a couple of days each week. I finally finished it a couple of weeks ago and am starting to have time to sort through the photos and bring the project the blogland.. I'm going to to my best […]
[Continue reading...]
Carter has been so helpful around the house lately that I decided to turn my kid-free errand running into a Starbucks date. If you give a kid a cookie, chances are he'll want warm vanilla milk to go with it so… Up he went with mommy's card. I can't believe he is tall enough to […]
[Continue reading...]
http://www.tuckinginsuperheroes.com/1462/
This guy loves his bananas and teething biscuits!
[Continue reading...]
How in the world is my baby, my very last baby, 6 months old today? Didn't we just come home from the hospital yesterday… with Keaton?! I think if I could, I would freeze time right now. Yes, it is hard and we are tired, but everyday someone does something cute, funny or adorable. Someone […]
[Continue reading...]